Welcome to the Dorfromantik Wiki!
Relax and build your own worlds!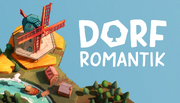 Dorfromantik
is a building strategy and puzzle video game developed and published by Toukana Interactive. It was published on March 25, 2021.
In Dorfromantik you can place tiles to create ever-growing, idyllic village landscapes, getting immerse yourself in a quiet, peaceful world at any time and take a break from everyday life. At the same time, Dorfromantik offers a challenge for those who are looking for one: To beat the highscore, you need to carefully plan and strategically place your tiles.
Game features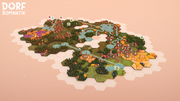 Easy to dive-in gameloop, which enables short play sessions in between any stressful schedule
Rewarding feedback loops, focussing on short term motivation, but also providing long term goals to achieve with unlockable new tiles
Matchless mix between puzzle and building strategy core game mechanic
High replayability by procedurally generated quest and tile systems
Unique artstyle with haptic, handpainted board game feel and high readability through an UI system that is integrated into the games environment
Relaxing mood achieved through the games pace, mechanic, colors and sounds
About us
We're a wiki maintained by people just like you! Created by fans, for fans, the Dorfromantik Wiki is dedicated to creating a comprehensive and informative resource about Dorfromantik.
We're a collaborative community website that anyone, including you, can build and expand. Wikis like this one depend on readers getting involved and adding content.
We also have a place for getting to know each other and to talk about Dorfromantik in our Discussions.
Whether you are here to start editing or to chat with fellow users, you are welcome to sign up for an account!